Ambertronix LED Desk Table Lamp Review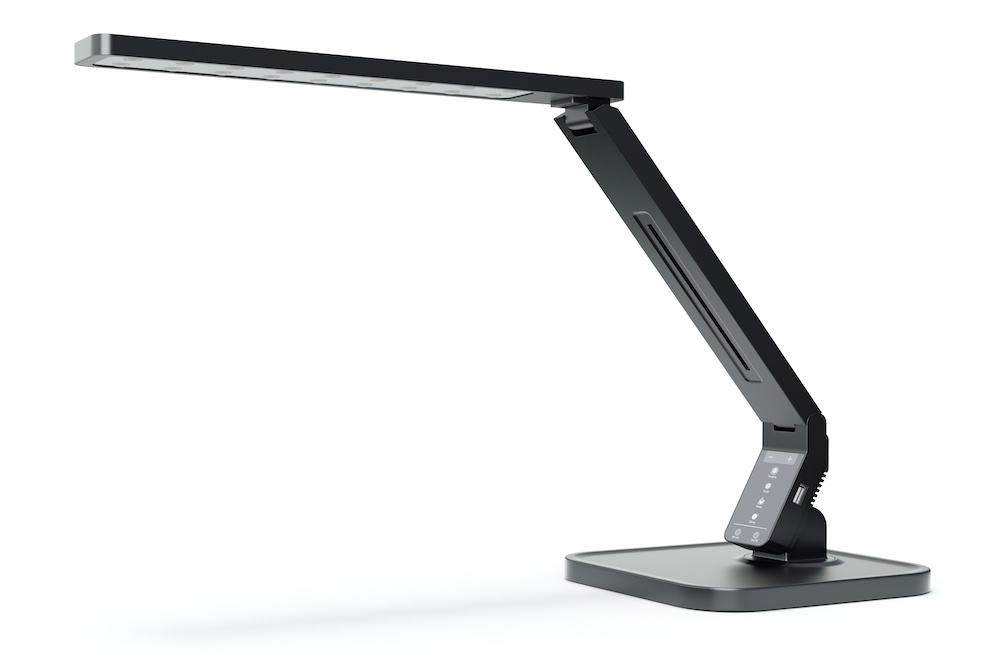 Recent studies have shown that the seated position is one of the worst the human body can be in. There is no doubt why as it puts huge stress on your spine, and unless you take breaks every 20 to 30 minutes, chances are that you are going to end up with a few strains and pains. Still, sitting at a desk is inevitable for most people, whether we are talking about students or those who have an office job.
Along with the fact that many of us sit in an uncomfortable position, we also usually write or read in a low-light setting which is definitely not the best thing when it comes to your vision health. Luckily for all of us, there are products that are of great help when it comes to making the studying and working environment more comfortable. One of these is the Ambertronix LED Desk Lamp — an affordable and well-made product that is a long-term investment. Let's check it out.
Ambertronix LED Desk Table Lamp
It is quite clear that old CFL bulbs are falling behind the use of LED bulbs that are healthier and more eco-friendly. Thus, the Ambertronix LED Desk Lamp is one of the best examples of how a product can be convenient, affordable, and efficient at the same time. It stands at a great price considering the fact that it is made out of metal, and it emits eye-friendly light making it one of the best choices on the relevant market today.
Who is this product for?
This product is for all you students and working people that spend countless hours every week writing and reading in a low-light environment. Thanks to its reasonable price, this product is affordable for anyone who is interested in improving their desk environment and who cares about their eye health. Along with that, it can be a great buy if you appreciate working at an office desk that is well-lit and comfortable for your eyes.
What's included?
As this product comes at a great price, you shouldn't expect a lot of unnecessary accessories. Still, it comes with everything you need to achieve an improved desk light setup including the lamp as well as the USB charging cable that you can connect your smartphone to.
Overview of features
When compared to other desk lamps, there are a few innovative features that we would say really highlight this product. First, the design of this lamp is phenomenal as it is made out of high-quality metal materials, with the base being solid, stable, and rust-resistant. It stands at 16.5 inches in height as well as 12.5 inches in length which is just perfect for an average office desk.
As for the features that this design comes with, the body is flexible meaning that you can adjust the lamp to point the beam where you need light. Additionally, storage shouldn't present a problem as it is foldable and you can pack it up in just a few seconds.
It includes one big LED bulb, that has over 50,000 hours of life expectancy, and comes with 5 different brightness modes and four different temperature settings. The settings are controlled via a touch sensor that is sensitive and easy to use. It comes with a USB port to which you can connect your smart device to recharge.
The emitted light is eye-friendly, preventing strains, and it allows you to enjoy an environment that is dim yet easy-to-read in. There is nothing much to say against this product – still, it would be better if the customer service was more effective as that is something that matters in case of a faulty product. Overall, a good buy for anyone who doesn't want to miss all the benefits of an LED light that is good for your eyes.
How to use
Similar to other LED desk lamps, the basic feature that you need to get comfortable with is the touch sensor through which you will control the temperature and brightness settings. As for the charging part, the only thing you need to do is connect your smartphone to this lamp.
Alternatives
MEIKEE LED Desk Lamp
If for whatever reason you don't want the Ambertronix Desk Lamp, there is a great alternative that we can suggest. This MEIKEE product stands at a similar price, features the same brightness and temperature settings, and is extremely easy to adjust.
Conclusion
Sitting at your desk for more than a few hours is exhausting and straining for the eyes. Still, with a proper LED desk lamp, you will be able to make the environment at least a bit more comfortable. There is no doubt that with this Ambertronix LED Desk Table Lamp you will be doing your eyes a great favor.